SLX provides AudioVisual Solutions for over 15 years & to the most demanding clients. We aim to deliver systems and services that are technologically accurate, well-integrated, userfriendly and hassle free. From agencies and retail to healthcare and museums, we've completed projects of various scopes for a diverse range of businesses.
We offer design, engineering, installation, service, programming, and documentation of high-tech AV systems like:
multimedia projectors in front or rear projection systems,
large-format video walls composed of several large-format monitors,
LED screens adapted to physical conditions,
image scanners and video processors,
large-area projection screens displaying the image in a spherical or panoramic arrangement.
We use dedicated solutions, focusing on the maximum use of the technical capabilities of the device, giving the customer the awareness of the right choice.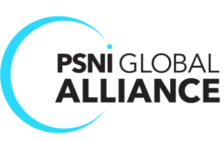 PSNI is an alliance of elite technology integrator manufacturers, distributors and service partners around the world. PSNI affiliation is the ultimate industry credential. More than that, it's a promise that you'll receive the smartest solutions, the smoothest installations, and the best training, service and support.
We are very proud, because SLX is the only PSNI member on polish market, certified and granting access to network capabilities worldwide.
Meetings and workshops with people involved in the project, in order to: collect & discuss Client needs, goals and ambitions, consult & advise the optimal selection of AV Tech Solutions, spark the the creation of a best suited project.
Design work and executive documentation includes a list of equipment, schematics, architectural diagrams with devices, cable routes & industry guidelines. UX descriptions of the system and first GUI visialisations are prepared.
Customer's supervisor and SLX designer brief the project manager and project engineer who will follow the project until completion. At this stage selected devices are updated and pre-programmed based on project specification & Client Cl.
At installation stage, cable routes are set and devices are mounted on premises. After positive verification of the installation wiring, equipment is connected and tested again. SLX project manager coordinates installation and finishing works.
A team of sound engineers, network engineers and technicians make sure that the equipment works properly. Functional tests performed after the completion of works guarantee that all systems work optimally and as expected by the user.
At the training stage, the customer is provided with device instructions, post implementation documentation, as well as information of practical operation of the AV system.  Once the project is completed, SLX provide a support for the client.
SLX based on the leading solutions from the global manufacturers. We are still developing and implementing methodologies that allow us to create advanced solutions on a small and large scale. Control and management systems we used are environmentally friendly. When selecting equipment, we focus on many important factors including quality, output speed and ink adhesion. Since we have at least two of every device, we do our homework to make sure we're choosing the most reliable and advanced equipment on the market. We are proud to contribute and receive expertise from many, international organizations.